Combine a relaxing stay with rejuvenating spa treatments, with unforgettable sight-seeing, yoga, skiing, biking, trekking, bungee jumping, sailing or any other activities of your interest.
Sailing
We offer several options for sailing in both seas of Greece, Ionian and Aegean…
Yoga
Enjoy yoga sessions in our pine forest with the sunlight soaring through the green pine roof or walk a few steps down to our beach with its beautiful round stones and the crystal clear water. You'll be guided through the chakras and your body's functions by a certificated and experienced yoga instructor.
Special Events
Whether you like meetings, lectures, music nights, culture nights, cooking nights, herbal presentations, wine tasting, team building activities, or just relaxing, we are here to make it happen.
Sightseeings
See, feel and hear surroundings that date back thousands of years, visit ancient but still vibrant villages with winding alleys and artistic handicraft, take the old train up to Kalavrita mountains, go by boat through the spectacular Corinth canal, discover the diverse and fascinating capital Athens, or just sunbathe at white sandy or pebbled beaches with a glass of ice cold ouzo in your hand.
Bungee Jumping
Are you after a really special experience? Bungee-jump of Corinth! Sotiris Pavlou and his Zulu Bungee team have something truly unique to offer you: bungee jumping from one of the most famous bridges in the world, the bridge over the Canal of Corinth. A true adrenalin kick!
Buggy driving tours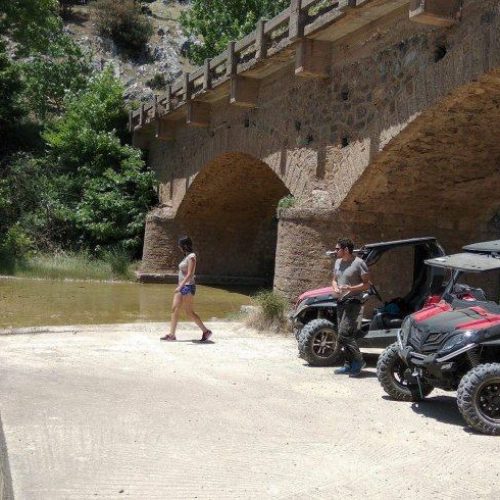 Organized guided tours with buggy-utv-atv in Trikala Korinthias in the northern Peloponnese. It is an activity aimed at people who want to know the nature of the area. The excursions are made with a safety concern whenever fast driving is not allowed.
Hiking & Trekking & Corinthian Paths
Mountainous Corinthia offers many enjoyable hiking trails to nature lovers and hikers.
Climbing
Combine your favorite hobby in the beautiful region of Corinthia with accommodation, excursions and many other activities. Get your adrenaline pumping by reaching the highest peak of the climbing field!
Skiing
Have lots of fun skiing in the Peloponnese Region!
Diving
Have you ever wondered how it feels to breathe underwater?
Have you ever thought that a totally different world is hidden under the surface of the sea?
Follow us to the magical underwater world through a real diving experience up to a maximum 12m depth and learn the basic principles of SCUBA diving.
To do so you must be happy in body and soul and above 10yrs. All the rest is on us.
Horse Riding
Horse riding in the forest and by the lake surrounded by mountains, through vineyards, gorges and breath taking nature.
Tennis
Play tennis by the sea, or in one of  the 6 tennis courts of the "Sythas" Tennis Club of Xylokastro (free of charge), from early in the morning until 10pm at night!
Drink as much wine as you wish
The fantastic vacation packages at Le Convivial include tours to Nemea that will exceed your wildest holiday dreams!
Would you like to just spend a night in a Le Convivial Suite or would you prefer to turn your visit into a unique experience? We have a tailored service for your needs.
Don't just stay… Visit, live and experience!
Enjoy wonderful stays with unforgettable sight-seeing, wine tasting and great tours to Nemea
Experience Corinthian Gastronomy
Join Le CONVIVIAL in a surprising journey full of tastes, aromas and culture.
A journey through the centuries of the Mediterranean Corinthian culinary art, based on the plethora of the local products of superior quality.
Cycling
Ask for free bicycles from Le CONVIVIAL to enjoy beautiful rides across the Xylokastro shore.
For the most demanding ones:
Cross Corinth Canal
Sail through the Canal of Corinth by sail boat, motorboat or small cruise boat.